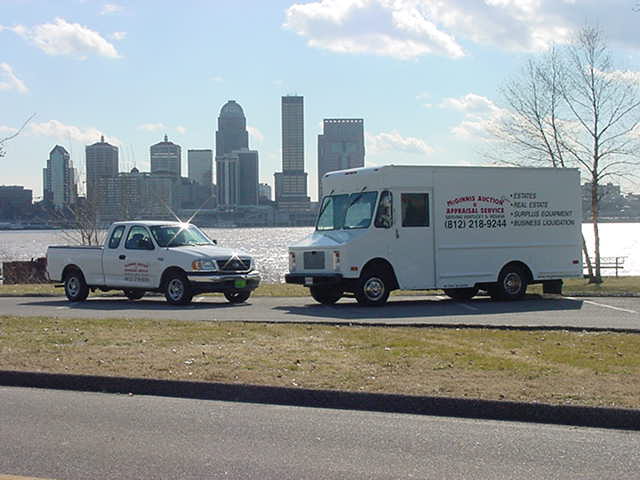 Why Hire Us?
We'll bring our services to you!

Certified Estate Specialist
Certified Appraisers Guild of America, CAGA
We'll go out of our way to make sure we do all we can to get the job done correctly and to get the highest possible dollar for the goods being offered. If you can't hire us by all means please hire another auction company. What about the other service providers? Do they possess the certifications, licenses, and uphold the standards as required by a state regulated licensing agency. Questions you should ask before you consider signing on the dotted line. (1) Are you a member of any State, National or other Professional Association? (2) Are you a licensed in this state? (3) Do you possess any professional designations? (4) Is this your fulltime profession? (5) Will you guarantee all checks? (6) Do you accept credit cards? (7) Do you own your own web page on the Internet? (8) Do you have any professional certifications? (9) Will you provide me with a list of past clients? (10) Will you work for a flat fee? ****If the answer to any of these questions is no maybe this is not the right service provider for you!
Professionalism, Quality Service and Delivering More than what is Expected. Our customer service standards will meet or exceed any liquidation service provider. This we promise.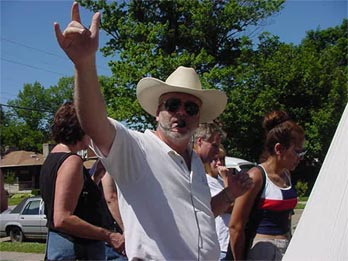 What makes us different: It's simple; we can offer you many different options when it comes to selling your personal property or real estate. Selling real estate, estate items, conducting business liquidation and surplus equipment auctions and performing certified appraisals is our fulltime business. We can conduct your auction live onsite or we can perform an online bidding auction.
We also understand and employ the traditional methods of selling real estate. The difference is we know when auction may or may not be in the best interest of the client or situation.
If auction is not right for you we may recommend other options, an auction may not work in every situation in these cases we may recommend a consignment shop, or a used furniture store for your personal property.
What does it take to have an auction? In order to have an auction at your location you should have enough goods to justify 4 - 6 hours of selling. It may take 2- 4-6 weeks to schedule an auction. We have to develop a marketing stratagy, we have to prepare your goods for auction, we have to advertise for your auction. Please take note: If you need to be out on the 1st of the month please don't wait until the 29th of the month before to call us, it just won't work.
Our Advertising: We will design and manage the auction advertising campaign specifically to meet the needs of your auction. Our advertising may include Internet, web pages, email, direct mail circulars, postcards or catalogs, newspaper ads, specialty publications, and cable television ads.
Property Preparation: Your property will bring more money when it's presented in its top condition. This is why we do all we can to prepare your property for auction. Washing, cleaning and removing all the rubbish is just part of what we do to enhance your property before the auction. When necessary we can pressure wash the sidewalk, the driveway or the house. We can clean the gutters and trim the scrubs just to give your property the best in curb appeal before the auction.
Auction Setup: Proper setup and presentation are important factors to any auction.
Registration: We require all potential bidders to register with the clerk before they can bid on any items at auction. To register, a bidder must have a valid driver's license and an active checking account on a local bank with the same home address information. Potential bidders who cannot meet these requirements may not register to bid without prior authorization from the principal auctioneer. Absentee bidders are always welcome with full payment in advance made payable to the auction company before the day of the auction. At bidder registration and during the checkout process we are able to obtain the buyer's bio for future auctions.
Auction Management: Over ninety percent of the auction is done before the first bid is called.
Buyers and sellers generally do not see what goes on behind the scenes. Site preparation, marketing development, inventory management, catering, and item research are just a few of the things required for a successful auction and all of these issues are resolved before the first item is sold.
Customer Purchase Payments: We accept Visa, MasterCard, Discover, and American Express at our auctions. By accepting charge cards will significantly increase your bottom line. We have noticed a 30% increase in our average estate auctions as well as an increase in auction attendance as a result of accepting charge cards. We will always accept cash and good local personal checks and company checks under certain conditions. All personal checks and personal identification must contain the same home address information.
Methods of Bidding: Technology as caused an evolution in the auction industry. Today's auctioneer has to be flexible to meet the needs of both the client and the customer. Our bidding procedures must also change with the times; once we took alot of fax bid but now we must consider the internet with live realtime online bidding or receiving internet bids. These options will be presented to the client prior to the written contract for possible implementation in their future auction.
Auction Evaluation: For a free confidential consultation and evaluation of your potential auction and appraisal needs please contact us today. Our contact page will offer you many different methods to reach us.